Profile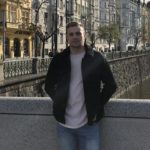 Graeme Poole
Curriculum Vitae
Education

University of Oxford, Imperial College London

Qualifications

PhD, Masters in Earth Sciences, BSc

Work History

University of Bristol

Current Job

Astrophysicist

Employer

My connections to STFC science and technology

My PhD was funded by an STFC scholarship
Favourite thing to do in my job: Play with rocks from space!

About Me: Sports-mad Sheldon Cooper wannabe

Read more

Outside of science, I'm a huge sports fan and love playing football and cricket (I still haven't given up on my dream of becoming a professional….until then, the space rocks will have to do 😛 ). I also enjoy watching & playing tennis, badminton, rugby and F1.

Although I'm very active, I also enjoy being very lazy – binge watching shows is certainly a hobby of mine. I'm certainly a world-leading expert on the life of Peter Griffin!!

My Work: I use rocks from space (meteorites) to try and discover how the solar system began 4.5 billion years ago

Read more

Meteorites come from asteroids that are the oldest planet-type bodies in the solar system. I try to find out what they're made of, so that we can learn what the solar system was like when it was very young.

I spend about 75% of my work time in the lab playing with the space rocks. My lab work generally involves a lot of chemistry, which unfortunately means I also need to endlessly clean beakers!

The rest of my time is spent in front of my computer analysing and interpreting my meteorite measurements. And just occasionally, I get to have the Eureka! moment.

My Typical Day: Coffee. Lab. Lunch. Coffee. Lab. Pub.

What I'd do with the prize money: Fund a UK lecture tour around the most disadvantaged areas to encourage the next generation of scientists to get involved

My Interview

How would you describe yourself in 3 words?

Sheldon Cooper Wannabe

What was your favourite subject at school?

Physical geography and physics

What did you want to be after you left school?

The next David Beckham.

Were you ever in trouble at school?

Of course not ;-)

If you weren't doing this job, what would you choose instead?

Professional footballer or cricketer

Who is your favourite singer or band?

Muse

What's your favourite food?

Pizza, pizza and......pizza.

If you had 3 wishes for yourself what would they be? - be honest!

1) Be the first human on Mars. 2) Be the 13th human on the Moon. 3) Get Aston Villa FC promoted back to the Premier League.

Tell us a joke.

Did you know Spock actually had three ears - a left ear, a right ear, and a final front ear!
---
---
---