Students! Did you do your profile survey? Check your email for a chance to win a £20 voucher and tell us what you think now!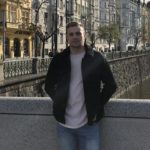 Being chosen as the winner of the Einsteinium Zone well and truly knocked my socks off. I am very grateful to all those who voted for me.
I really enjoyed interacting with all the students and answering their questions on a wide variety of topics, from the effects of quantum mechanics inside black holes, to the type of cheese the Moon should ideally be made of (spoiler alert: Emmental). I also really enjoyed chatting with the other scientists in the zone and learning a lot about their own diverse fields of research.
During my PhD and subsequently in my postdoc, I have always been aware of the obvious positives about STEM outreach. Yet taking part in I'm a Scientist has shown me how vital it can be for us scientists to promote our own research and inform the public (who are ultimately funding many of us through taxes). Moreover, it is such an incredible tool to inspire and engage with the next generation of young scientists still at school.
I owe a huge thanks to STFC who sponsored the physics-based Einsteinium Zone, and also funded my PhD allowing me to get to where I am today. And finally, thanks to the I'm a Scientist team and all the other scientists who took part. It was cracking fun.
For anyone considering taking part in future I'm a Scientist events I only have two words of advice – DO IT!!!
Scientists! If you'd like the chance to win funding for your own public engagement work, apply for the next I'm a Scientist, Get me out of here: imascientist.org.uk/scientist-apply